Custom Website Design: $899
Time-Limited Offer: $499.00!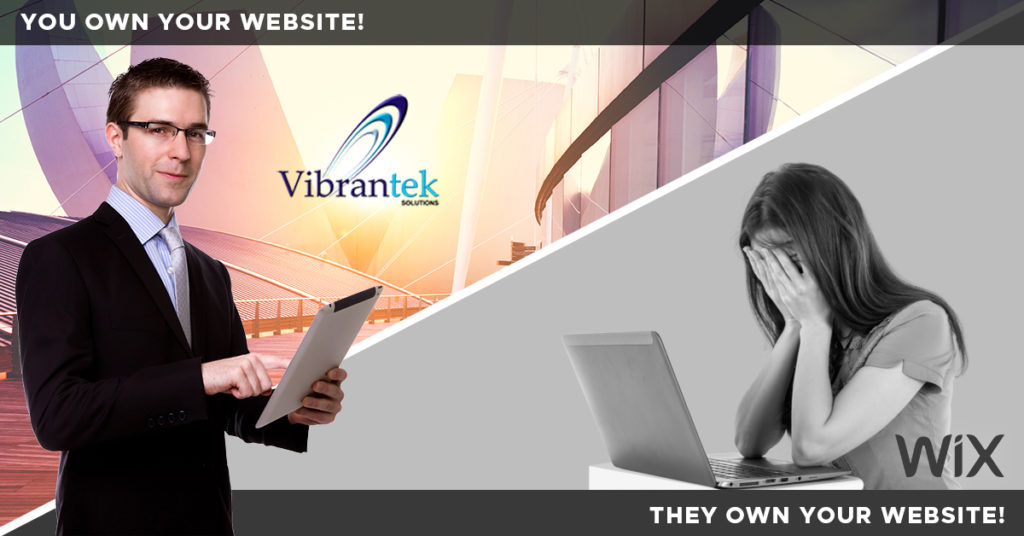 Why Choose Vibrantek Solutions as Your Website Builder?
Today, there is the emergence of a thousand ways one can build a website. All thanks to the fast pacing technology, the competition is very high out there. However, only a few of the available website builders are capable of providing workable end products. Hence, you can easily get overwhelmed when trying to make the best choice.
The good news is that Vibrantek Solutions is just what you have been searching for. It is one of the few website builders that will give you something new, different, professional, and reliable at the same time. So, what makes Vibrantek Solutions different from the free website builders like Wix? Well, there is only one way to find out. Read on.
What makes Vibrantek Different?
1). 100% Transfer of Ownership
Unlike other free website builders, Vibrantek Solutions gives your 100% transfer of website ownership upon completion. In addition to that, we offer you a physical disk that has your website on there.
One thing that you will realize with free website builders is that you don't have 100% full ownership to your website. That is because you tend to use the website builder's templates and fonts, among other things. This gets even worse when you stop making payments. Your website along with all its contents go 'bye-bye.'
All in all, when you choose Vibrantek as your website building partner, you don't have to worry about that. You make a onetime website payment, and upon completion, the website solely belongs to you.
2). Full Control Of Your Website
When you choose Vibrantek for your website building needs, you will have full control of your website. This is a trade-off that you have to make when using the free website builders such as Wix and Goddady. Free website builders will give you access only to a limited range of tools, templates, and fonts. Therefore, you will not be able to use any custom codes as per your needs.
3). Ultimate Security

As we mentioned earlier, Vibrantek gives you a physical disk with your website therein. This means that you have 100% security of your website. However, this is not the same case with the free website builders. The fact that you use a shared server, there is a high risk of security concerns. This tends to increase the vulnerability of your website.
4). A Bright Future for You

One of the best things about using Vibrantek for your website building needs is that you have a more guaranteed future. That is because you get to transfer your website to other content management systems; however you want. This is not something that you will get with free website builders.
Hence, this leaves us with the question; What happens if one day the free website building company closes down? All your assets, the site, and files will be gone along with the company. I know you wouldn't want that.
So, What Are You Waiting for? CALL and Speak to the Owner Sterling Reed: 312-718-3882
Days Left Hours Left Minutes Left Seconds Left
Sorry this Deal Has Expired. Call us at: 855-942-7484 to See what other specials we may have.
Was $899 – This Week Only: $499
Time Limited Package Offer:
Benefits:
Professional Mobile & Responsive Website
Admin Panel – You have complete access to make changes
SEO (Search Engine Optimization Package)
(5) Professional Email Accounts i.e yourname@yourbusiness.com
HD Stock & Video Images
(1) Free Business Social Media setup & connection to website
YOU OWN YOUR WEBSITE 100% IMAGES AND ALL!
Direct Contact with the Owner
Over 18+ Years Web Designing & Optimization
Quick Turn Around Time
Local, You won't have to Travel Far
Competitive Rates
Expert Web & Graphics Design Team
Not Ready? That's OK! Call Us to Lock in this Price.
Only Half Down Payment is needed to lock in this price
To Assure our Best Services, we can only accept a Certain amount of Projects.
Complete Website (1) Week Special $499.00
Call Us at: 312-718-3882 or Click on the Chat Button at the Bottom Right
We can only Accept a Certain Amount of Projects, so Don't Wait…